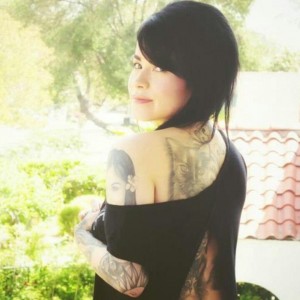 Jessy is one of the most passionate, and creative makeup artists you will ever meet. Jessy, born in Argentina, knew she loved art from a young age. She first fell in love with music. She's played from a very young age and has rocked many stages around the country from house of blues to the famous sunset strip. Music is the beat of her heart, but her other passion that rocks her soul is Makeup.
Jessy loves her art, as her style is very rock n roll and fun. She believes the skin (face/foundation) is the most important aspect in a makeup look. She brings her artistic nature rocking spirit and desire to help others to every work experience, it could range from a one and one beauty session, high fashion, runway, film, bridal, or red carpet event.
Jessy's positive attitude allows her to connect with many people. Those who've met her will agree she is down to earth, and radiates an almost contagious positive energy.
Her passion doesn't stop with her creative outlets, either. She loves animals and is a cruelty free/vegan  makeup artist. She feels testing on animals in the name of beauty are both cruel and unnecessary. Jessy's entire makeup kit includes synthetic (as opposed to animal hair) brushes, and products that were not tested on animals.
Jessy doesn't only enhance a client's natural beauty on the outside with her impeccable makeup skills, she also makes them "more rockin' from the inside" after educating them on the importance of cruelty free products. Being in Jessy's chair is a very intimate experience full of positive vibes and great fun. She truly believes beauty start's within.